Awful, awful, awful game.
Unfortunately, Ferguson did exactly what I suspected he might which was to play it cagey and see how things went. Even allowing for that, it was absolutely shocking to see how deep the defence were at times. The selection was wrong. Fair enough about Vidic, but Ronaldo up top was a big mistake. He was isolated for the entire game, had no support, and no decoy runners to create space to move into. I can see the logic of playing Park in a tie like this, but it didn't work and he should have been taken off at half-time for Nani. The RTE panel raved about Scholes, but I think he just did what you would expect from someone in that role- maybe it's because it's the wrong role for him and he still did well, but when it came to the things you usually expect of him, he didn't do it. His passing wasn't up to scratch, although the team was so poorly set-up it made little difference.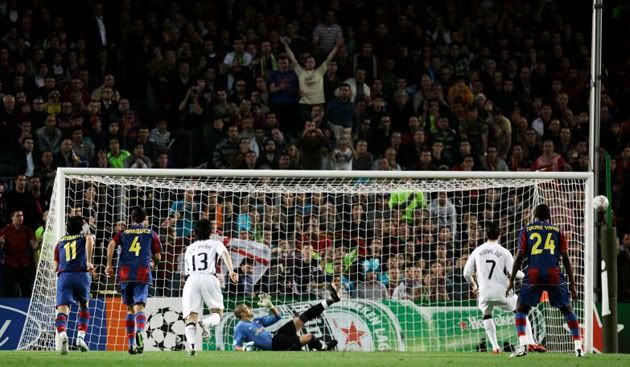 United should have approached this game on the front foot- with their record in home second legs, 0-0 is not a good result. Barca have been awful of late, and a score draw (at the minimum) should have been the aim. a 2-1 or 3-2 loss would have been fine also. Instead, they made a shambolic Barcelona look decent. As it happened, they just didn't have the ability or the confidence to do to United what they deserved. One thing you can say is the defence performed brilliantly, maintaining their concentration throughout, and restricted the opposition to a handful of half-chances. Scholes and Carrick should been pressing much higher up the field though, in the end they just ended up inviting too much pressure on the defence and were too far away from the frontmen when they did get posession to create anything. They relied upon, and might have profited better from, lapses in concentration from the opposition- but the problem with that is that when the other side in controlling the game, there is a far greater likelihood that you'll be the team to make the mistake. Risky stuff. Even the Italians don't play like that anymore.
As for Barca, I thought they were pretty poor as well. For a team that had 62% of the ball, they did nothing. Messi did alright; Xavi played well; Deco, for me, was fantastic- anyone (and there are many, it would seem) who doesn't recognise what he brings to the table knows nothing about the game. As for the others? Eto'o- poor; Iniesta- looked out of place so far up the pitch. Abidal was poor also, Zambrotta put in a good shift though. Henry, I think, should have come on earlier, and in place of Eto'o. As it was, I thought he did reasonably well, in that position which he doesn't enjoy much.
As for next week, it's a tough call. If United play anything like they did last night, they'll be poxed if they get through; if they play it as if it's a premiership game, and get the selection right, they'll cream them. Anderson and Nani have to start. Ronaldo must be allowed to run from deep. I think the whole Rooney thing is a red herring. He can start up front, play off Tevez, or come in from the left. What matters is that the deeper lying midfielders can link up with the attack, and that Evra can overlap. It's all about the attitude- fuck playing chess. Play football.
(Photography shamelessly stolen from http://football.guardian.co.uk )