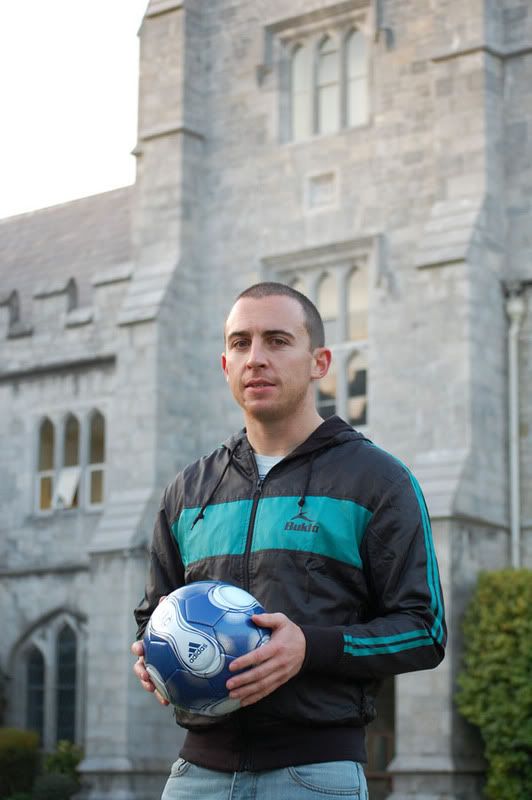 Ahead of his side's clash with Longford Town in this Sunday's FAI Cup final, Cork City right-back and UCC graduate Neal Horgan returned to his alma mater to talk to String about study, slaggings and step-overs
UCC graduate Neal Horgan is a fixture in the Cork City defence, and was part of the outstanding team that brought the Eircom League title back to the Capital of Culture in 2005.
Almost as impressive as their domestic achievements were their achievements in Europe, where, punching well above the Eircom League's weight, they defeated Swedish champions-elect Malmo and Djurgarden in consecutive seasons.
They also shocked Dutch first division side NEC Nijmegen, then under the tutelage of the 1970's Dutch footballing legend and current FC Barcelona assistant manager Johan Neeskens, as well Cypriot champions Limassol, and putting up commendable displays against the likes of FC Nantes, Red Star Belgrade, and Slavia Prague.
Horgan's former team-mates such as Kevin Doyle, Alan Bennett and Roy O'Donovan have since moved onto Premiership football and City subsequently found it difficult to build on their success.
But this year, Horgan has helped the side to the final of the FAI Cup, in which they will meet Longford Town this Sunday, and rebel hearts will dare to dream again.
Sadly for the right-back, a booking in the semi-final victory over Bohemians means he will be forced to watch the game on the sidelines, but with new investors in place and a strong second half showing this season, the future is looking bright.
Off the field, Horgan has been very busy academically. He graduated from UCC with a BA in history ad geography in 2001, and went on to do a hDip in management and marketing at the college.
He continued his studies by taking a diploma in legal studies, passing his Blackhall exams in 2006. At the start of the current season, he toyed with the idea of continuing his studies in law in the US, and trained with Major League Soccer (MLS) outfit Colorado Rapids.
However, the strict salary caps governing MLS playing contracts means that player wages can be very low, even compared to Eircom League clubs.
After much deliberation, Horgan felt that his interests would best be served by remaining with Cork City, where his current contract runs up until the end of the 2008 season.
He is an advocate of footballers taking the opportunity to study instead of risking everything by moving to England in their teens, insisting that it provides a valuable safety net.
"I obviously don't know first hand, but once you come through trials there it's all football from a very young age," he says.
"It's nice to able to study, and I'm glad I was lucky enough to have the chance to combine both. A lot of players from here head over to England when they're 16 or 17, and not all of these players are going to make it.
"The English clubs have the money, and it's a numbers game. It's great now that the Eircom League is full-time and can absorb some of these lads. But the problem is that the league still works to short-term contracts.
"So you come back, but what then if you get injured, or maybe lose your place, and then your contract isn't renewed? Suddenly you find yourself having to start again from scratch without so much as a Leaving Certificate to back you up. It can be a cruel game."
Having sampled life in the lecture halls of UCC and the hallowed turf of Turner's Cross, Horgan believes there is great potential for a link-up between the college and his club.
"It's a shame that nobody has brought it about yet. Why not give fellas an alternative to heading over to Britain? Instead they could stay here and get their qualifications," he says, adding that the Eircom League is now a viable stepping stone to the Premiership.
Even before he chose to study at UCC, Horgan had links to the college. His late father Patrick lectured in Law at the College, and coached the UCC team back in the day.
"I grew up supporting College in the Harling and Collingwood cups, and my favourite player back then was Dave Morley [brother of City legend Pat]"" he says.
"The day before a City game, I used to take a stroll through the main campus. It was a great way to relax and get away from it all."
He cracks a smile as he recalls the stick he got in the City dressing room on account of his studies.
"God, yeah, The lads are still calling me the student!" he laughs. "Some of the lads were very well turned out, so they used be mocking my 'student' clothes. Neale Fenn used to rip me apart. It was all good craic though."
Horgan was too busy with his City commitments to play with College, but did join up with the 32-county Irish Universities team to compete in the World Student Games in China.
The team was coached by UCC's Canice Kennedy, and featured fellow UCC students such as David Spratt and Alan Weldon, both currently playing in the Munster Senior League, as well as Michael Mulconnery and Tony Tynan, who recently helped rivals Cobh Ramblers' march to the Eircom League first division title.
"The lads are still calling me the student! Some of them were very well turned out, so they used be mocking my 'student' clothes. Neale Fenn used to rip me apart. It was all good craic though" – Neal Horgan on getting stick in the Cork City dressing room during his time at UCC
He has come up against some quality players in his time. But who were the standouts?
"[Drogheda's] Ollie Cahill is a great player. He's won so much since he left City, and he plays on the left so he's a direct opponent," he offers.
"Outside of the Eircom League, I played against Nikola Zigic [6'7' Valencia striker, then of Red Star Belgrade] in the Champions League qualifiers last year, and I was pleased with my performance. I even beat him to a header!
"I can remember coming up against Bolton's Jay Jay Okocha a while back too. He used to have this trick, a sort of double step-over with a change of direction. He was in front of me and I knew exactly what he was going to do. "So I thought 'right, I'll show him', but we both ended up colliding, and quick as that he was on his feet and gone. But it's a real privilege to play against players of that calibre."
It's been a difficult season for Cork City, who found it difficult to find form early on and have underachieved since their title win two years ago.
"We've lost so many players since 2005, and haven't really been able to replace them," he says.
"But getting the likes of Gareth Farrelly and Colin Healy has been a massive boost. Both of them have played for Ireland, and of course Joe Gamble has made international squads, so we're very strong now in the middle of the park.
"Getting the investors on board should help us in a big way too next season. It's been very frustrating, contending first with Shels and then with Drogheda, spending big, stockpiling players they didn't necessarily need, and weakening other team's squads."
City missed out on the fire sale at relegated Shelbourne due to lack of funds, but Horgan clearly feels that things are looking up for the future.
"The cup final is going to be great, even though I can't be out there," he says. "Unlike in England, the FAI Cup's significance hasn't been diluted by the focus on Europe. It's still a major thing. It won't be easy. Longford are a good team, and were very unlucky to be relegated. The point deduction killed them in the end.
"It must be a sickener to have finished as strongly as they have, so they'll be up for it. Some of our lads have been there and lost [in 2005]. That really hurt. So they'll be looking to put that right".
Looking ahead to next season, Horgan says that City can maintain their league challenge provided they hang onto their best players and compete in the transfer market. Long-term, he's unfussed about what the future holds.
"My contract runs to December next year. So we'll see how it goes. If I don't end up extending it beyond that, I'll begin my apprenticeship as a solicitor. It's nice to have that option. Going to college and playing sport compliment each other massively. It simply cannot be recommended strongly enough."
(Photography by the UCC Express's rather marvelous Eoin Tyrrell )