It's been a curious season in Spain's Primera División. The two behemoths may be out of sight once again, but for the chasing pack a most gentlemanly of pacts was in place: "You go!"; - "No, after you!" seemed to be the consensus in the race - or, non-race - for European places.
Levante's early season form saw them sitting in the final Champions League berth in mid-December; twelve weeks, five defeats, three draws and no wins later they were still there, such was the ineptitude of several more illustrious sides lying below them.
That other great certainty of recent years, the one which holds that Valencia should have daylight between themselves and those above and beneath remained. One week it was Athletic, the next Atlético, threatening to make a break behind them only to slip back into a funk.
Mini maestro Santi Cazorla's missed penalty didn't halt Málaga's charge on Monday night
The gap from 6th to 17th still stands at a preposterously tight 7 points; and Levante are still up there in fifth. But last night, Málaga had the chance to make third place their own. Any doubts as to whether they would rise to the challenge evaporated within two minutes at the Rosaleda.
Salomon Rondón burst through on goal only to be felled by Francis. Penalty- and red. Santi Cazorla,the league's leading free-kick marksman this season, fluffed his lines from 12 yards. No matter; for there was never any question that Racing were going to hold their hosts at bay.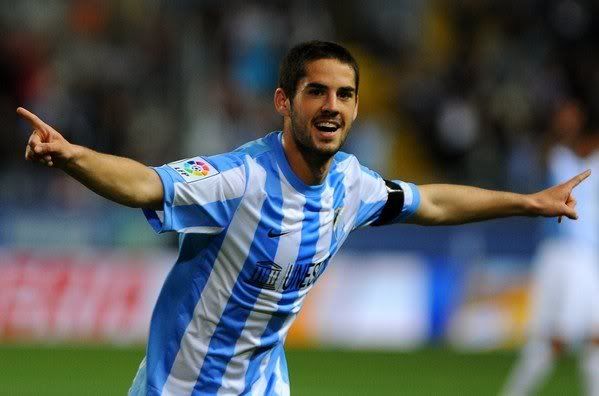 Isco wheels away to celebrate breaking the deadlock at La Rosaleda
Málaga swiftly settled into the sort of patient, metronomic midfield interplay that is the hallmark of Manuel Pellegrini sides, passing the Cantabrians into submission. Death by a thousand cuts. It was overdue when Isco opened the scoring with a delightfully curled effort at the midway point of the first half.
It's been a fine season for the summer recruit from Valencia; what wretched luck ahead of the Euros for him, being just another diminutive midfield schemer born in a country where Cesc Fábregas and David Silva are bit part players at international level. But with that other member of the tribe Cazorla and Ruud Van Nistelrooy rounding off an emphatic victory, his arrival at the grandest club stage next Autumn has an air of eventuality about it.
The heat is on for Unai Emery at Valencia
While Málaga can be justifiably proud of their recent form- 19 points out from the last 24 now- their position owes as much to Valencia's spectacular implosion since the turn of the year. From three points behind Barcelona going into the winter break, they've claimed just three wins in their fifteen games since, 15 points from 45 available. Draws against Real Madrid are supposed to feel like victories, but theirs at the Bernabéu on Sunday now tastes more like a defeat. Above all for their embattled manager Unai Emery, whose number finally seems to be up.
For outsiders, managing Valencia has long appeared a pitiless task. The intolerance shown towards Emery during his tenure has seemed ludicrous at times; but then, these are the same supporters who waved white hankies as Hector Cúper took them to successive Champions League finals- and spent as much time booing as cheering when Rafa Benítez delivered two league titles and a UEFA Cup in his campaigns.
But now, the tide turning against Emery is inevitable; inevitable and, perhaps understandable. He has worked miracles keeping the squad competitive as they cut costs, selling his best players every year to bring down the debt. They had become accustomed- bored, even- with being good enough to come third but not quite good enough to get any higher over the last few seasons. With that certainty now anything but, the knives are out.
"Go now!" the small band of traveling fans implored him at Rayo a fortnight ago- sentiments which found a fuller voice in their disappointing draw to city rivals Levante a week later. More than the points dropped, it was the manner in which they were dropped which irked the Mestalla crowd above all; another game where Los Ches had let a winning position slip. The 46th time that's happened in Emery's three and a half years at the helm.
Not that any of this should take away from their performance against the leaders, for it's only the third time they've failed to take maximum points at home this season. And If they had goalkeeper Vicente Guaita to thank for denying Cristiano Ronaldo, Karim Benzema and Ángel Di Maria, they could also feel somewhat aggrieved not to have claimed an unlikely victory. Tino & Ricardo Costa were both foiled by the woodwork before Iker Casillas produced a breathtaking save to deny Jordi Alba in the final minutes
.
Around the grounds:
One man now being spoken of as Emery's likely successor, José Ramón Sandoval, could hardly have done more to add to his growing reputation on Saturday. Osasuna, flying high but smarting from a 5-1 reverse against Real, looked to be a difficult opponent on paper. On grass, that feeling lasted all of 5 minutes in Vallecas as Rayo cantered to a 6-0 victory; a victory which leaves them well poised to claim a Europa League spot. Not bad going for a side who were widely assumed to be headed straight back down to the Segunda.
Real's draw means the margin at the top has been trimmed to four points ahead of their midweek visit to Atléṫico. Not that it seemed like matters were headed that way when Barcelona ran into trouble against a spirited Real Zaragoza the night before.
Another stodgy away opening had seen them looking rattled against the relegation strugglers, who'd passed up several good openings- not least of of Aranda's pitiful penalty miss- before the forward put them in front on the half hour. Two goals in three minutes from Puyol and Messi- followed by Minero's foolish second yellow- turned the game on its head before the interval.
The Catalan papers screamed 'It's on!' on Monday, and who could blame them? Three weeks before, Mundo Deportivo's front page noting that Mourinho's sides tend to drop most points in the final ten games of seasons looked to be an exercise in straw clutching. Now it looks eerily prescient.
They've even co-opted Marca's patented crapping-yourself-o-meter; that ludicrous device wheeled out over the last three seasons in the vain hope that Barcelona might be getting a little bit twitchy in the run in. But in his Monday evening press conference, Pep Guardiola remained as inscrutable as ever, at pains to describe the prospect of reining Madrid in as "very difficult... We have only three defenders left- three- and yet we play a game every three days now."
Athletic welcomed Fernando Llorente back against Sevilla, with the Spain striker proving the difference between the sides. Atlético, meanwhile, slumped to a 2-0 defeat at Levante. It's been 13 years since they last beat Real, and frankly you wouldn't bet on that happening tomorrow. Elsewhere, Villarreal's 3-1 reverse at Real Betis ensured that the Yellow Submarine remain four points above the drop zone.
Results:
Espanyol 2 Real Sociedad 2
Getafe 2 Sporting 0
Rayo Vallecano 6 Osasuna 0
Zaragoza 1 Barcelona 4
Real Betis 3 Villarreal 1
Levante 2 Atlético 0
Mallorca 0 Granada 0
Athletic Bilbao 1 Sevilla 0
Málaga 3 Racing 0
Midweek fixtures

Tuesday
Osasuna v Getafe
Real Sociedad v Real Betis
Barcelona v Getafe
Wednesday
Granada v Athletic Bilbao
Sporting Gijon v Levante
Valencia v Rayo Vallecano
Atlético v Real Madrid
Thursday
Villarreal v Málaga
Racing v Mallorca
Sevilla v Zaragoza