Question marks remain ahead of tonight's game against Ireland for Spain. Criticism has rained down on manager Vicente del Bosque for his choice to play a strikerless system against Italy on Sunday. This criticism has come in different forms. The idea of Spain playing with no reference point up top is hardly something new though
Many credit Luciano Spalletti, then at Roma, for pioneering the idea of strikerless system. In 2005/6, he moved towards a scheme that was widely described as a 4-6-0 (though perhaps its more accurate to see it is a 4-1-4-1. Francesco Totti, that most classic of trequartistas, is not a number 9. But he served as the reference point for a fluid attack, allowing the more attack minded midfielders to push on as Totti dropped deep to create space. The result, even against teams used to systems with more than three bands, was to create havoc. Spalletti employed variations of this, along with an unorthodox 4-2-3-1 throughout the remainder of his highly successful tenure at the club.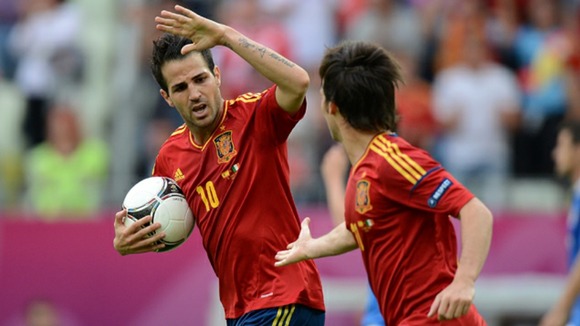 4-2-3-1, proclaimed by all and sundry on the BBC and ITV as something new during the last world cup is anything but. Least of all, in England. When a Manchester United, shorn of several key players, played Arsenal at Old Trafford in December 2002, changes were needed. Sir Alex Ferguson, influenced by his then assistant, Carlos Queiroz- more on him later) played what could be described as a version of 4-2-3-1 more rigid than those seen these days. Nominally a full back, Phil Nevill's moved into the line of two, giving a wonderfully industrious performance.
The system offered more solidity than United's standard two banks of four, and permitted those further up the park behind Van Nistelrooy to cause mischief between the lines. a gutsy United prevailed 2-0 on the day to many people's surprise against what was aone of Arsene Wenger's greatest Arsenal side, at the peak of their powers too. That result, following on from another surprise victory at Anfield shortly before offered the impetus for United to mount an ultimately successful title charge.
With all personnel available in the spring, the system was to become United's default selection. It also, to an extent, solved Ferguson's headache on including all three of Keane, Seba Verón, and Paul Scholes in the team. It also meant there was no room form David Beckham. Instead, a line of three behind Van Nistelrooy; Ole Gunnar Solskjaer starting on the right, Ryan Giggs on the left and Verón or Scholes in the middle, interchanged at will.
Versions of 4-2-3-1 (and also 4-3-3) have become United's staple since 2007, and the hand of Queiroz can be clearly seen in this. It was his time in charge of the golden generation of Portuguese players in the last 1980's and early 90s youth sides that first saw the use of both 4-2-3-1 and genuinely strikerless variations of that system. He solved Portugal's perpetual problem of producing strikers that were nowhere near the level of the glut of playmakers and wingers available to him by dispensing with fielding any entirely. Portugal won everything around them.
Of course, the strikerless system with a false 9 became synonymous with Barcelona under Pep Guardiola. It's hard to imagine that there's every been a player suited to this role than Lionel Messi. And here's the crux with Spain who according to some - if not this writer - can be a little bit boring. Spain don't have a Lionel Messi type player. But this doesn't mean experimentation with strikerless systems is wrong, or indulgent, for them. Contrary to those in the British and Irish media who didn't do their homework, it wasn't an eccentric departure to line up like that against Italy.
One reason for going with this system was that Spain misjudged Cesare Prandelli''s intentions for Italy, but of course with the lack of a fit and firing striker- with no David Villa to call- and far too many good creative players in the squad, it simply made sense.
It's not about taking self parody to new heights either. What Spain are about first and foremost is winning football games. That they do so in such beautiful ways is beside the point. Spain don't play like they do because the they're trying to win a beauty contest. They do so because it's what they do best, and better than anyone else. They are as ruthlessly pragmatic as they are addicted to winning.
Contrary to widespread belief, Scotland's Craig Levein didn't invented strikerless football. But it was his Scotland team who were the first to come up against a Del Bosque Spain without a fixed reference last Autumn. It was David Silva who played the false 9 that evening and he ran riot, scoring twice. Scotland had no answer to the array of options going forward, nor the angles of attack. This system was used in subsequent fixtures, including a defeat at Wembley were Spain were a bit off colour, and England defended fantastically and intelligently. Against Italy, the personnel for the system wasn't quite right, lacking depth and width. Michael Cox explained this in his breakdown of the game for Zonal Marking.
The question now is whether Spain will use the same set up against Ireland on Thursday. Spanish media opinion has been split down the middle on this. The issue dominates their daily press conferences. One of their most vocal critics has been a certain José Mourinho.
They may well go with it, and barring an act of god they will win. A plus with this set up is that, with quick passing and and movement and without a reference, they can pull Ireland's rigid defenders to places they never wanted to go. But this is the key- they will do this anyway. Even if they played with a three man midfield, Rául Albiol, Victor Valdés and Pepe Reina up front, their passing and moving will be too much for Trapattoni's side. They're just that good.
Really, the question facing Del Bosque is twofold- does he pick the system best suited to winning this game, or continue to test this false 9 system in a game that they probably know deep down that they will win anyway? Del Bosque is going to keep us guessing, though this writer suspects it will be the latter. Personally, this writer would do the former.
If we accept that Spain's passing and movement would be too good for Ireland even if they fielded 11 players who began on the bench last Sunday, then there is little to be gained in the here and now by lining up similarly. Many comments on the end of columns in The Guardian have people crying out for Fernando Lllorente. It's a good call, but it must be remembered that the big man from Athletic Bilbao is, like all of his club mates, exhausted. It was for that very reason that Iker Muniain isn't in the squad. Nobody in Europe's top leagues played more games than the Basques last season, and Marcelo Bielsa neither had the depth of squad nor inclination to rotate. Llorente is more likely to feature as an impact sub, if needed.
Given that Ireland's defenders, on the evident of the Croatia game, don't like it up them, a physical option like the Basque or Sevilla's Álvaro Negredo would discomfit them. Negredo is also able to play off the shoulder. And given the way in which he opened up the game against Italy, it's clear that Fernando Torres can add an extra dimension to the play. Forget the misses which, as ever with Torres this past year, were not as bad as some people would like to claim- well, not all three of them, anyway.
For a aide that likes to move the pall around quickly and probe, Torres offers what the Spanish called verticality, or directness- something they were missing until he came on. It allows them to play with more depth in attack and offers a reference point for the players behind him. With the likes of Seán St. Ledger and Dunne especially slow on turn, the former Liverpool man would surely enjoy playing off the shoulder of the Irish defenders. That he has a goal threat matters too, but it's not the whole point.
Even if he doesn't score himself he would pose distinctly different questions to this Irish backline. And, as Michael Cox also noted in his aforementioned piece, a player such as Jesus Navas or Pedro in the team offering genuine width (Álvaro Arbeloa was lamentably poor in this facet of the game last Sunday) would provide the variety to hurt Ireland in numerous and varied ways. Del Bosque is an conservative coach in some ways, so it will intriguing to see how he lines his men up in Gdansk. And it may prove instructive≠ as to how Spain are configured for the games that will follow.